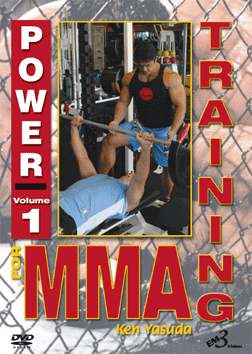 Save 20% & DOWLOAD Now!
EM-501 Vol-1
$19.99 US


POWER TRAINING for MMA-1
By Ken Yasuda

This two-DVD series by Ken Yasuda (coach for the SABRES Team of the International Fighting League) is a blend of goal-oriented conditioning drills and training strength, agility, and quickness for effective fighting movement. It is power-packed with specific exercises focusing on multidimensional muscular strength and endurance to produce dynamic functional movement and power for professional MMA fighters. The DVDs feature drills utilizing a multitude of traditional equipment to develop high levels of functional strength, speed, quickness, agility, coordination, flexibility, muscle endurance, and aerobic endurance for fighting. Bring your physical conditioning to an MMA professional level with this professional series!

Buy DVD
ISBN: 978-1-60661-008-4
EM-DVD-501 Vol-1
$24.95 US